Winter is coming… and Cork on Ice is on the way!
So we're giving you the opportunity to purchase Early Bird tickets for this year's event at a discounted price of €9.00.
These tickets are limited to 20 tickets per session but you can book for any session from opening day on the 03rd November 2017 right through to our very last session on the 28th January 2018.
These tickets will sell out quickly so our best advice is to book now and save!!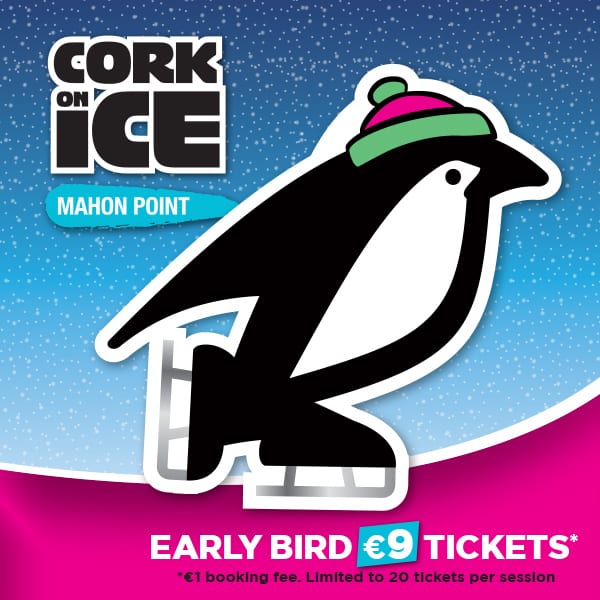 CORK ON ICE (3rd November 2017 – 28th January 2018)
Cork On Ice is one of Ireland's longest-running winter events and has become a tradition for many in the Cork and the greater Munster area since opening in 2007.,
Run by Cool Running Events, their stunning 800sqm ice rink is located under the impressive roof of a 2425sqm marquee on the grounds here at Mahon Point Shopping Centre from November to January each season, providing a fun and healthy activity for all ages throughout the winter months.
Cork On Ice has provided fun and laughter to over 450,000 skaters of all levels of skating ability for more than 10 years.
With a large main rink, a separate kiddies rink and a variety of events throughout the season, there is something for everyone!
Cork on Ice's location boasts free parking and a frequent bus service, making access to this quintessential Christmas experience a breeze.  All sessions last 50 minutes.
Cork on Ice has a dedicated kids ice rink for children aged from 3-10 years, which always has a member of their team present. There is also a number of penguin skating aids on hand to help your little ones on the ice! Families can then relax and take in the winter atmosphere with a nice hot chocolate after their ice skating session.
Cork On Ice also provides the perfect venue for Work nights out, Christmas Parties, Birthday Parties, Family Gatherings, Class Parties, Hens & Stags!