ECCO TRACK 25
To mark the 25th anniversary of the ECCO TRACK II, ECCO has updated the boot for 2017. A quarter of a century of heritage is fused with cutting edge technology and materials.
The new ECCO TRACK 25 features the technology of today, providing exceptional comfort and performance while retaining the original, stylish silhouette of the iconic ECCO TRACK II. The versatile utility boot is available in both ladies and men's sizes. With an updated range of colours and materials, the new ECCO TRACK 25 is suited for everything from a lakeside trail adventure to a stroll around the city centre.
Even in the wettest weather, the foot is kept dry and comfortable thanks to the GORE-TEX® waterproof construction, with the uppers consisting of breathable full-grain leather and durable, oiled Nubuck.
ECCO's smart technology, in the shape of the leather-covered ECCO Comfort Fibre System Inlay Sole, gives all-day comfort. As the wearer walks, the pumping effect of the foam beneath the upper surface pushes air through the tiny holes in the lining to increase circulation around the foot. For enhanced comfort, there is the option of additional width with the Inlay Sole. With a direct-injected, two-component sole consisting of a PU mid-sole, and a TPU outsole, this is a light, flexible and highly comfortable shoe with outstanding grip.
ECCO TRACK 25
831704 50783
AMBER / OAK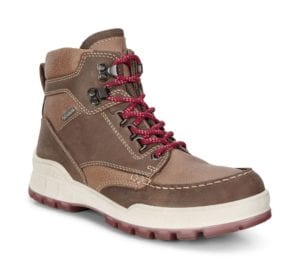 ECCO TRACK 25
831703 50825
NAVAJO BROWN / NAVAJO BROWN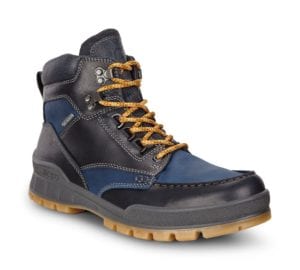 About ECCO
ECCO, a world-leading brand of shoes combining style and comfort, has built its success on great design, leather quality, and innovative technology. ECCO is one of the few major shoe manufacturers in the world which owns and manages every aspect of its leather and shoe productions and its retail sales. ECCO is among the largest producers in the world of high-quality leather, which is used in ECCO's shoes and own production of leather goods and is also sold to several leading luxury brands. Today, ECCO products are sold in 87 countries in more than 3,300 ECCO shops and shop-in-shops and at more than 14,000 sales points around the world. The company is family-owned, founded in Denmark in 1963, and employs more than 19,000 people worldwide. ecco.com
Visit Ecco at Mahon Point on the Upper Level