Lisa Stylista's Fashion Finds at Debenhams, Mahon Point SC
This week is all about Denim😍
Denim – from work pants to high fashion
What began as work clothes for working men progressed over the years to become one of the most popular casual wear in modern society. What makes jeans so appealing is that they make no distinction between classes, sexes and age groups.
"I wish I had invented blue jeans. They have expression, modesty, sex appeal, simplicity – all I hope for in my clothes" Yves Saint Laurent
Debenhams work hard every year to improve the fit of their jeans. They want their jeans to flatter all body shapes. Their jeans are made with superb quality with strong Lycra and polyester so they have great snap back recovery. This means no more baggy bottoms or knees.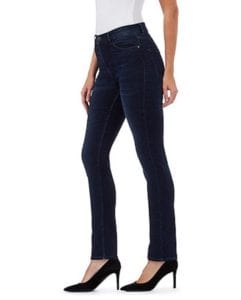 In my opinion every woman should own a pair of Jasper Conran shape and lift jeans. They are an amazing fit holding you in in all the right places while giving you a great shape. They are also the perfect day to night jeans as they look great styled with trainers for day and a dressy top and heels for night. These jeans come in a skinny and slim fit and range from a size 6-20 offering a short, regular and long leg. These jeans are an investment for €60 but they will last for years.
A new trend that we are noticing from our customers is the interest in straight leg jeans. For anyone looking for these I highly recommend you try the John Rocha jeans. Try the Elsa mid rise straight leg or the Brooke high waist slim leg. These are a luxurious soft touch denim with good stretch that create a flattering fit. These jeans are available in sizes 8-24 in short and regular leg and priced at €65.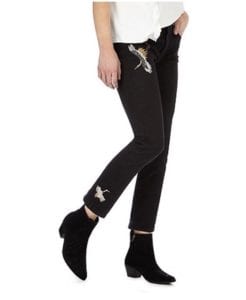 Finally for those looking for some thing different in their jeans you have got to check out the Nine by Savannah Miller range. Savannah Miller is a British – American fashion designer who started collaborating with Debenhams in 2015 and has since proved very popular with customers. The range is vintage boho inspired with classic pieces. Savannah's signature is the swallow as you will notice in many of her key season pieces. They are a premium vintage look denim in sizes 6-20 regular leg priced at €68. These really are designer jeans at high street prices.
If you need anymore help finding those perfect jeans or would like to make an appointment with me just call 085 7879737