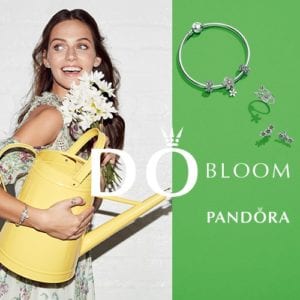 Spring 2017
Springtime is all about positive energy. So step out in colour, go for your favourite florals, and choose high quality jewellery made with stunning materials by talented craftspeople. Choose bright bursts or pearlescent pastels, and whether you stack, twist, mix or style solo, be inspired by our selection of key pieces.
Key Collection – FLORAL NOTES
An arrangement of six mini blooms on a pair of Dazzling Daisy Clusters earring climbers create beauty with an edge. Sterling silver and bead-set cubic zirconia add another flourish to a truly contemporary look.
ABOUT PANDORA
World-renowned for its hand-finished and contemporary jewellery at affordable prices, PANDORA designs, manufactures and markets jewellery made from high-quality materials. Inspiring women to embrace their individuality and express their personal style, PANDORA's stylish and feminine jewellery captures the unforgettable moments and personal values in life. PANDORA's unique and detailed designs combining traditional craftsmanship with modern technology are sold in more than 100 countries across six continents through approximately 8,900 points of sale, including more than 1,900 concept stores. Founded in 1982 and headquartered in Copenhagen, Denmark, PANDORA employs more than 17,800 people worldwide of whom approximately 12,000 are located in Gemopolis, Thailand, where the company manufactures its jewellery. PANDORA is publicly listed on the NASDAQ Copenhagen stock exchange in Denmark. For more information, please visit www.pandoragroup.com or be inspired at www.pandora.net
Tel: 021-4358719
Email: pandoramahonpoint@pandoraretail.ie
Web: www.pandora.net
Opening Hours
Mon: 9:30am – 7:00pm
Tue: 9:30am – 7:00pm
Wed: 9:30am – 7:00pm
Thurs: 9:30am – 9:00pm
Fri: 9:30am – 9:00pm
Sat: 9:30am – 7:00pm
Sun: 11:00am – 6:00pm