Mahon Point receives International Sustainability Rating & Green Energy Certificate!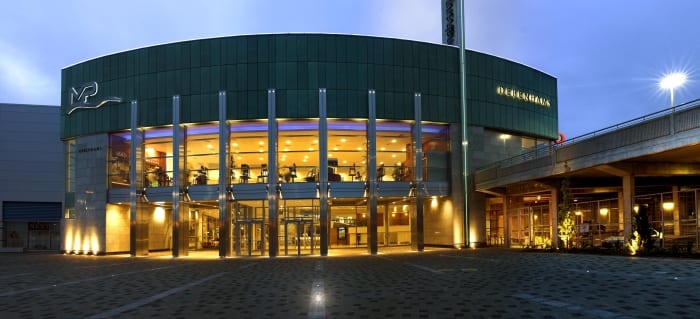 May 2015: Mahon Point Shopping Centre is proud to have received a Green Energy Certificate from Horizon Energy Group to show our commitment to the use of renewable energy and minimising the carbon footprint of the facility up to September 2017.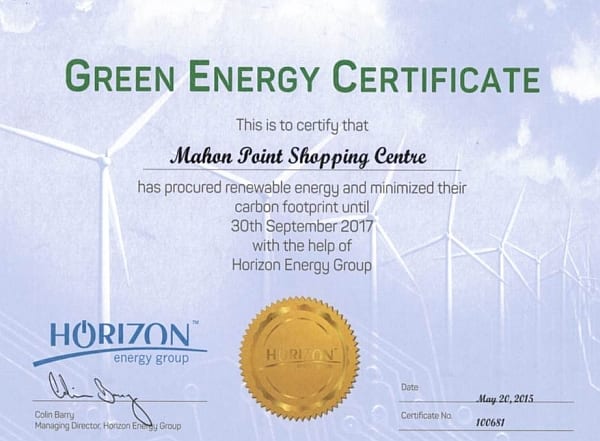 Mahon Point Shopping Centre has become the first shopping centre in Ireland to gain BREEAM in use certification. BREEAM is the world`s longest established and most widely used method of assessing, rating and certifying the sustainability of buildings, with 250,000 buildings with certified BREEAM assessment ratings and over a million registered for assessment since it was first launched in 1990.
The popular Cork shopping centre received an overall score of 64% when assessed under the Building Management and Asset classifications, which is an excellent result, especially considering that the scheme is now nine years old and the many of the factors (such as waste management and energy usage) have further developed in buildings in the meantime.
A BREEAM assessment uses recognised measures of performance, which are set against established benchmarks, to evaluate a building's specification, design, construction and use. The measures used represent a broad range of categories and criteria from energy to ecology. They include aspects related to energy and water use, the internal environment (health and well-being), pollution, transport, materials, waste, ecology and management processes.
Mahon Point Shopping Centre received exceptionally high ratings in the Waste (100%), Energy (87%), Water (85%), and Materials (100%) categories in the assessment thanks to a number of effective systems that have been introduced around the 30 acre site. These include introduction of a new bespoke Building Management System (that optimises and reduces waste on utilities such as water, gas and electricity) and efficient segregation and recycling of all site waste (including food waste composting). Other approaches include the use of a ground water well supply and lighting management through an efficient internal and external lighting system.
As the world's foremost environmental assessment method and rating system for buildings, BREEAM has assessed many high profile buildings and developments around the world.
Justin Young, Centre Manager took the decision to be assessed as part of a larger strategy to maintain the asset at the forefront of retail developments in Ireland, constantly updating and modernising the centre. "BREEAM provided Mahon Point with the framework to evaluate the true sustainable credentials of the shopping centre. It also enabled us to benchmark against our retail industry peers using the most widely-used environmental assessment method".
Investigation is currently underway to evaluate other methods of enhancing sustainability of Mahon Point Shopping Centre into the future, which will further enhance the BREEAM rating.