Get Straight to the Point with the New Route 202 Bus Stop right at the door of Munster's Largest Shopping Centre!
Looking for a Great Day Out in Cork?
How about a spot of retail therapy followed by a delicious meal and a trip to the movies?

The Route 202 moves to its new home at the Mahon Point S.C.
If your planning ahead for your summer holiday, need some travel essentials or want to browse for the latest bargains at Mahon Point Shopping Centre, you can travel straight there to the front door for as little as €1.60 (single leap fare) with Bus Éireann's Route 202.
Launched on June 5th the bus route runs from Knocknaheeny to City Centre to Mahon with buses every 10 minutes at peak times.
Commenting on the new 202 route, Justin Young, Centre Manager from Mahon Point said, "We have been working hard with Bus Eireann to deliver this service for our customers and are delighted to have it launch in time for the summer season.
"As a retail and leisure destination we are always looking to deliver more reasons to visit, whether that is through our new store openings, enhanced entertainment options as well as in-house events. And by offering a way to get directly to Mahon Point without having to bring your car we hope to welcome even more customers."
Mahon Point is Cork's premier retail destination with over 60 stores including Debenhams, Tesco, Zara, Next, River Island, an Omniplex Cinema, Foodcourt, attracting some XXX customers per year. The new route will reduce journey times and make commuting easier for locals and visitors alike.
Martin Walsh, Acting Regional Manager, South, said: "We are delighted to bring our customers even closer to Mahon Point Shopping Centre to enjoy all the delights that are on offer. This is the first of a number of planned enhancements to the Cork city network that will be introduced in the next couple of months. We look forward to welcoming both new and existing customers on to our services who can sit back, relax and enjoy the benefits from savings on car and fuel costs.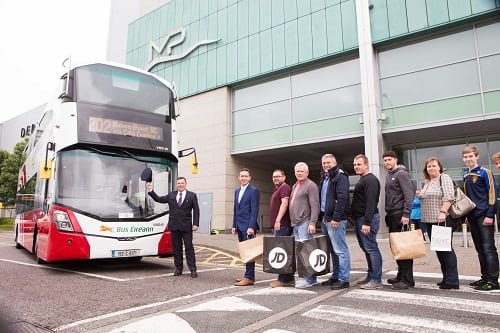 Enhancements were introduced on Route 202 in June 2016, which provides the following customer benefits:
A weekday service increased from a 15 minute frequency to a 10 minute frequency, from 07:00 to 19:00 after 19.00 buses run every 20 minutes until the last service at 23.30
The Saturday service operates every 20 minutes throughout the day with the last service at 23.30
The Sunday & Public Holiday service operates every 20 minutes throughout the day with the last service at 23.30
Click here for more information on bus times and stops.