Sanitisation Programme
A specialist cleaning company has been contracted to undertake a comprehensive disinfection and sanitisation of all our public areas, inclusive of the following:
Public malls
Public washrooms
Reception area
Food court
Public lifts
Touch surfaces – handrails, benches, bins, planters, doors, information points, stairwells, and moving walkways.
This process is certified to comply with the current best standards and practice.
It will be repeated at regular intervals as necessary going forward.
See below copy of the relevant certification.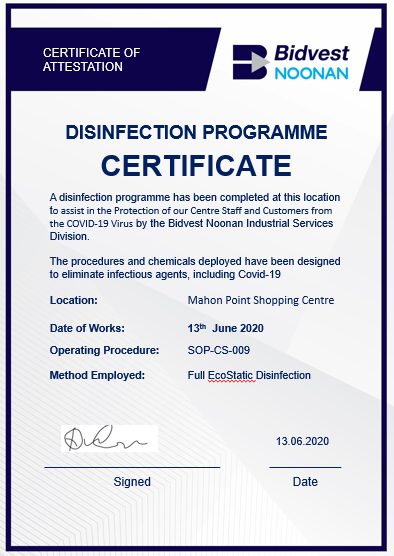 Routine Cleaning
Our cleaning team, throughout the day and every day, will continue to clean down all touch surfaces with approved disinfectants and sanitisers.
Sanitising Stations
Sanitising stations will be available at all our entrances for visitors to use for their own protection.
View the video below for further details.