On behalf of the team here at Mahon Point Shopping Centre and all our retailers, we would like to thank you for shopping local and supporting local employment in our Shopping Centre during this pandemic.
On this page we will keep you updated of the ongoing measures that we are taking, in accordance with HSE guidelines and Government advice, to ensure the safety of both our staff and customers and to provide a safe and enjoyable shopping experience for all of our customers.
Due to Covid-19, the shopping experience has evolved from leisurely browsing to a more purposeful event.  We hope you all will be safe and responsible in this new shopping environment.
International Accreditation
On October 29th 2020 we were delighted to receive international accreditation for Covid 19 Compliance from Safe Asset Group.
As part of our ongoing commitment to provide a safe shopping experience for our customers during the pandemic we applied for international certification for Covid Compliance and were delighted to achieve 98% compliance. 
Click here for further information.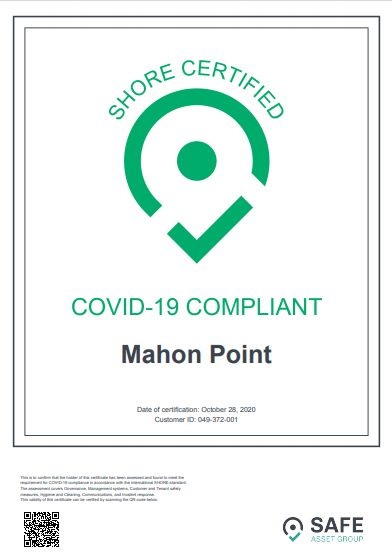 Wearing face coverings in our centre
In line with Government guidelines, we are encouraging visitors to wear face coverings when visiting our shopping centre. In an effort to further encourage this practice, we have provided mask vending units at the main entrance to the shopping centre and have also updated our signage throughout the centre.
If for some reason, you cannot wear a face covering, please contact our Security Team or our Customer Service Team at the reception desk.
Social Distancing Programme
The Centre has marked and laid out clear guidelines, based on public health advice, on what distancing people should adhere to while in the Centre.
Floor decals are located throughout the centre to both inform and create customer separation where possible including public toilets, the food court, escalators and public lifts.
Queuing Policy for Retailers on the Mall
In an effort to maintain social distancing retailers have reduced the flow and quantity of customers into stores and curtailed capacity to ensure the correct staff to customer ratio in store at any given time.
The flow of customers in and out of our stores is managed by a retailer staff member stationed at the front entrance door when required who also manages any queue that forms outside the store. Where queues are formed on the public mall, we have provided demarcation lines showing 2-metre gaps that should be maintained between customers.
Each retailer is responsible for queue management for their own store. We urge you to cooperate with the staff of each store to assist in making the experience safe for all.
Sanitising Stations
Sanitising stations are available at all our entrances for visitors to use for their own protection.
Routine Cleaning
Our cleaning team, throughout the day and every day, will continue to clean down all touch surfaces with approved disinfectants and sanitisers.
Mall Access for Customers
At each mall entrance, one set of automatic doors is designated as 'Entry Only' and another is designated as 'Exit Only'. Floor decals and signage direct patrons in the correct direction as you approach the entrance and exit to create customer separation.
Customer Seating
All public customer seating has been removed in the short-term for customers' safety.
Protective Glass Screens
At our Customer Service counter a protective glass screen to protect staff and customers has been installed.  Customers queuing at the desk will be limited to two at a time.
Security Team
Our Security Team actively remind and encourage shoppers to wear face coverings, maintain proper distance from fellow shoppers and workers, and to refrain from shopping in groups.
We would appreciate your co-operation with our staff members during this time.  If you have any questions, please feel free to approach them.
Closed Areas & Services
Until such time as it is deemed safe to reopen as per Government guidelines, the following areas and services at the Centre will remain closed;
The Kids Zone play area.
The Party Zone in the Food Court.
Hot Desks and Comfort Zone
Public WIFI
And capacity in our public washrooms will be reduced to reflect social distancing guidelines.
Staff Training
All Mahon Point staff and colleagues have been properly trained on the maintaining of social distancing at work and ensuring good hygiene practices, such as frequent hand washing and respiratory etiquette, to protect against infection.
Opening Hours
The core opening hours for the centre will be as follows:
Monday to Wednesday – 9.30am to 7pm
Thursday & Friday – 9.30am to 9pm
Saturday- 9.30am to 7pm
Sunday and Bank Holidays – 11am to 6pm
*Please note some of our stores are operating different opening hours to the centre, please check with individual stores before your visit.  Store phone numbers can be found here.
Should you have any questions about any of the above, please email us at info@mahonpointsc.ie. Or while at the Centre please feel free to contact any member of our Security Team.
We look forward to seeing you soon.
Working Together, That's The Point.