Following the most recent update from the Government, only essential retail stores and services are open at Mahon Point Shopping Centre from January 1st.
Non-essential retail will remain closed until further notice.
We will continue to adhere to strict government guidelines and will have all necessary measures in place to make your visit safe.  Face coverings are required during your visit to the centre. Please respect social distancing and follow directions, from signage and staff.
We appreciate your continued cooperation.
See below stores that are currently open:
Boots Pharmacy
Carphone Warehouse
Eason
GoBike
Holland & Barrett
Optical Express
McCauley Health & Beauty
Specsavers
Tesco
Vodafone
The following restaurants are open for Takeaway only.
Hillbilly's Pizza and Wings
Starbucks
Our weekly Farmers Market, which is also classified as essential retail, will contiune every Thursday from 10am to 2pm.
Opening Hours are listed below but are subject to change:
Lower Mall:
Boots Pharmacy: Monday to Saturday – 8.30am to 6pm, Sunday – 11am to 6pm
Carphone Warehouse: Monday to Saturday – 10am to 6pm, Sunday – 12pm to 6pm
Eason: Monday to Saturday – 9.30am to 5pm, Sunday – 11am to 4pm
GoBike: Monday to Friday – 10am to 5pm, Saturday -11am to 4pm, Sunday – Closed.

Please book online ahead of your visit on www.gobikecork.com . Email: gobike@gobikecork.com. Phone: 089 603 230

Holland & Barrett: Monday to Saturday – 9am -6pm, Sunday – 11am to 6pm
Optical Express – please call 021 4614545 to make an appointment
McCauley Health & Beauty: Monday to Friday – 9.30am to 6pm, Saturday & Sunday – Closed
Upper Mall:
Specsavers: Monday to Saturday – 9.30am to 6pm, Sunday – 11am to 6pm
Tesco: Monday to Sunday – 7am to 10pm
Vodafone: Monday to Saturday – 10am to 6pm, Sunday – 1pm to 5pm
Hillbilly's Pizza & Wings: Monday to Sunday – 12pm to 6pm
Starbucks: Monday to Saturday – 10am to 6pm, Sunday 12pm to 6pm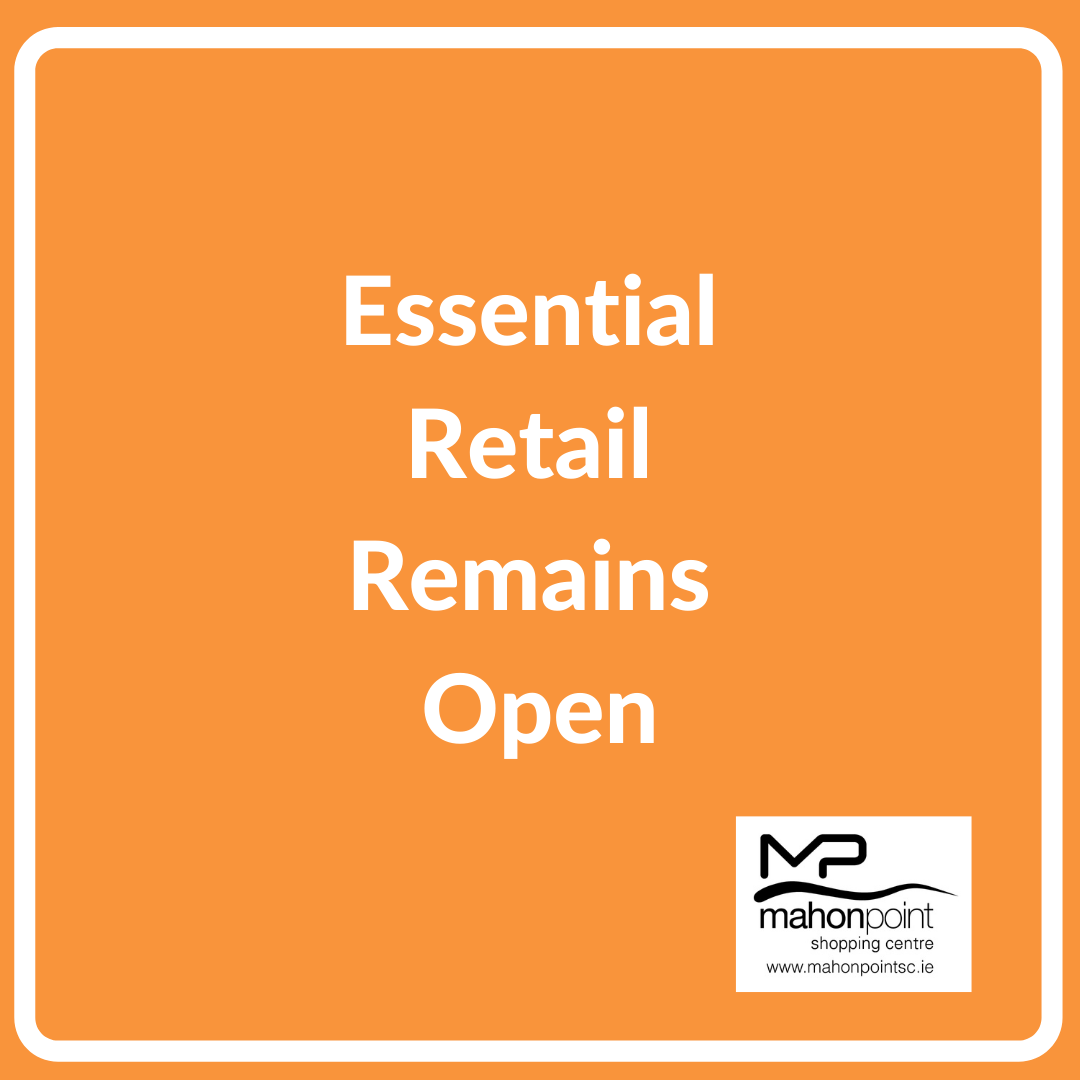 See below stores that are open in Mahon Point Retail Park:
Homestore and More – Mon – Fri 09.00 – 21.00, Sat 09.00 -19.00, Sun 10.00-18.30
Argos – Monday to Friday 9am to 7pm, Saturday 9am to 6pm, Sunday 10am to 6pm, (Sunday Hours may change)
Halfords – Mon –  Sat 08.00 – 20.00,  Sat 08.00 -18.00, Sun 11.00 – 18.00
Equipet – Mon – Sat 10.00 – 19.00, Sun 11.00 – 18.00
PC World – Mon – Sun 10.00 – 18.00
Carpet Right – Closed
Hickeys Homefocus – Closed
EZ Living – Closed
B&Q – Mon- Sat 08.00 – 20.00 , Sun 10.00 – 18.00
Bean & Leaf – (Takeaway Only) – Mon – Sat 08.00 – 18.00, Sun 10.00 – 18.00