Sustainable Energy Use at Mahon Point Shopping Centre
Here at Mahon Point Shopping Centre, we have a very strong commitment to the sustainable use of energy.  We have undertaken a number of projects over the years and it is still a work in progress as we are continually identifying new opportunities.
From ensuring that none of our waste goes to landfill, to exploring more renewable energy sources, we are very committed to doing our bit to save the planet.
Our LED and solar projects alone will reduce our annual carbon emissions by 338 tonnes.
And many of our retail supply partners are also committed to sustainable energy, notably our weekly Farmers Market.
To find out more information check out our brochure below, view our video, or read down the page to learn about some of the initiatives we have undertaken, and be assured, we have plans for more…
EV Charging
In summer 2021 Tesla Electric Vehicle Supercharging  was installed in our P4 car park (brown colour code).
For our launch of EV charging we partnered with Tesla with the installation of superchargers in P4. P4 hosts four 250kW Supercharger stalls, which are open 24 hours a day, supporting owners who travel in and around Cork for local and long journeys. Cork is Ireland's fifth Supercharger location for Tesla and the first to have access to the latest V3 Superchargers which offer the fastest charging currently available.
With V3 Supercharging, a Tesla Model 3 Long Range operating at peak efficiency can recover up to 120km of charge in five minutes and charge at rates of up to 1600 km per hour. Owners download the Tesla app for iPhone and Android to monitor, control and get notifications when charging is complete via the Tesla app.
Plans are in place for these chargers to offer universal charging for all electric vehicles and for further expansion of this service.
In 2022 we introduced our own full electric van for patrolling the Centre grounds and assisting customers.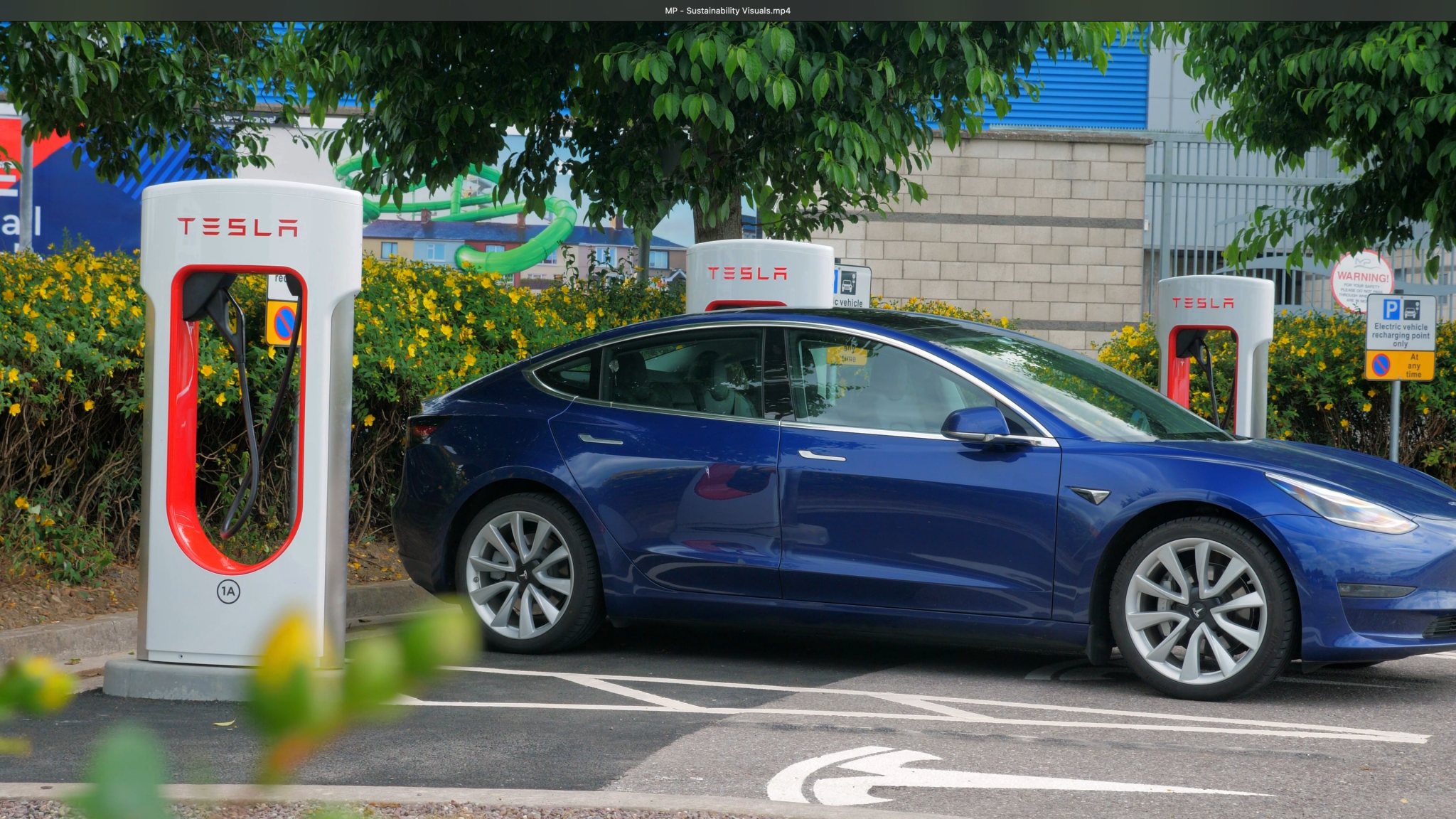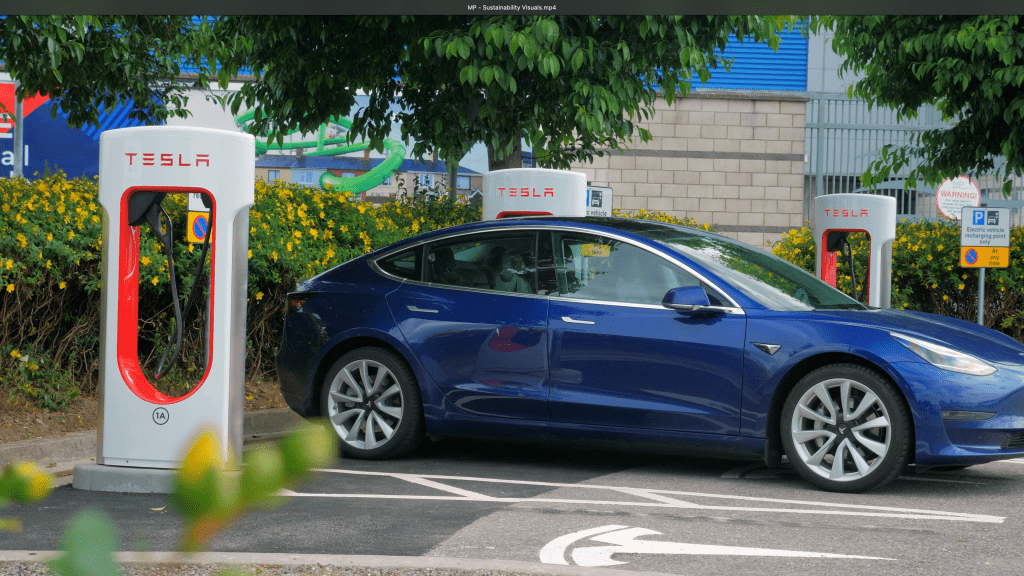 Solar Energy
In summer 2020 we installed 952sq m of Photo Voltaic (PV) panels on the roof of the centre which generates in the order of 160,000 kWh of electricity per annum used to power the public areas of the shopping centre. PV panels convert thermal energy into electricity. Full year CO2 emission savings for 2021 was 75 tonnes.
In summer 2022 we installed an additional 635sq m of PV panels which will generate in the region of 150,000kWh facilitating 33% of our total electricity requirements to be sourced from solar energy on completion. This is already making a significant contribution to carbon reduction and energy savings at the centre along with helping our environment.
These two projects will reduce our carbon emissions by a considerable 131 tonnes per annum. Generating our own renewable electricity allows us consume energy that is clean and cuts down on our greenhouse gas emissions.
In 2023/2024 we plan a third installation of PV panels on the remainder of our roof.
LED Lights
The use of more efficient LED lights demands less energy and reduces our carbon emissions.
In late 2017 we commenced our LED lighting project with the rollout of our Christmas decorations all which contained LED lights. In 2018 our six external car parks were fitted with LED lights and in 2019 our covered car park was completed.
In 2021 we installed LED lighting in our escalators and toilet areas and we commenced further LED installations in our Food Court and back of house corridor and stair areas. In 2022 we completed our LED roll-out on all mall areas offering different colour options in selected areas. Following our LED roll-out, our total annual carbon emissions reduction will be 207 tonnes.
LED is highly energy efficient – less heat, more light, lower cost. It allows us to use less electricity for the same light output – 85% less electricity when compared to conventional lighting and around 18% less electricity compared to CFL.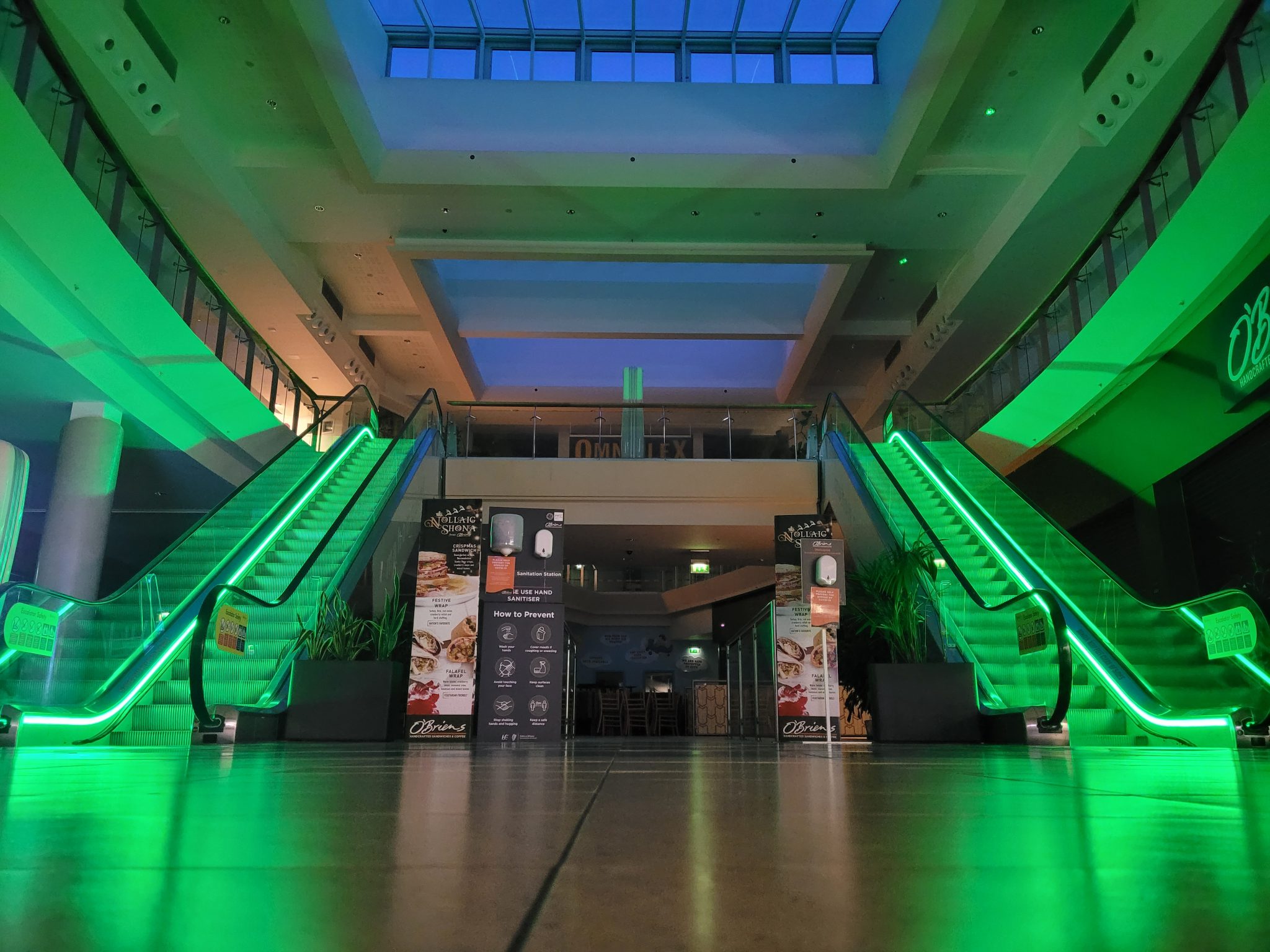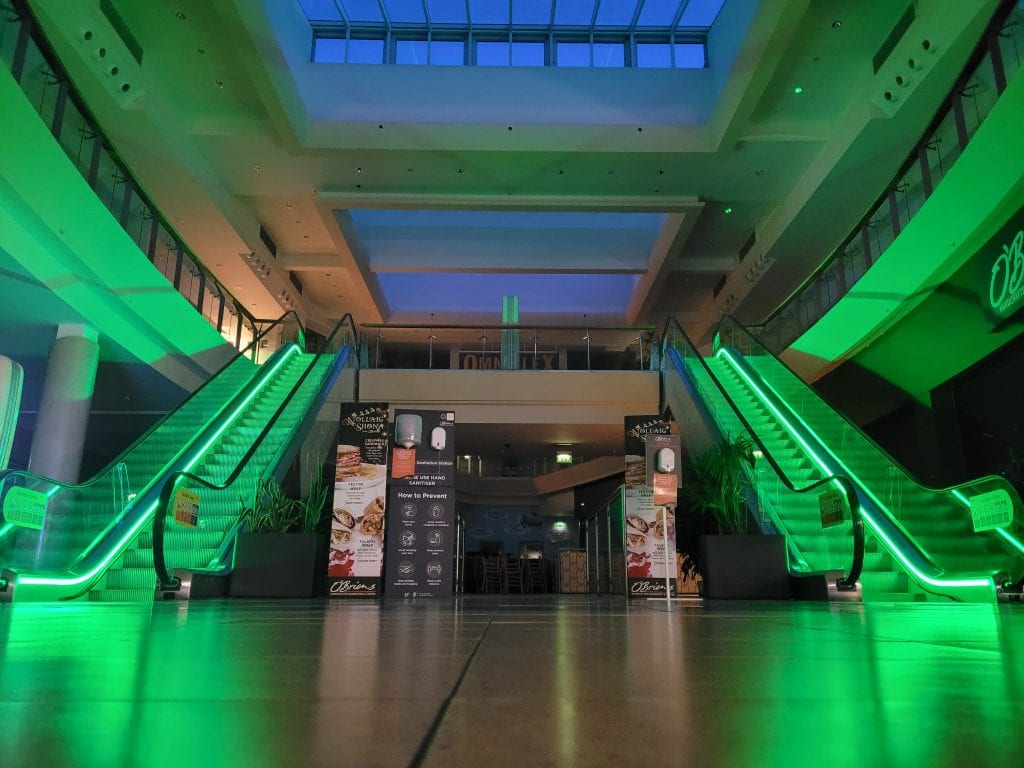 100% Green Electricity
Since 2017 our energy team only procure 100% renewable electricity from our preferred energy providers. While a large proportion of our energy is sourced from our own PV panels, the balance is provided by Energia, who is our current provider.  Energia's carbon mix is a combination of wind, solar, bio and hydro energy.  This means that our electricity is 100% green energy.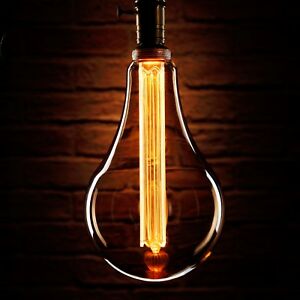 Direct Bus Routes
Why drive when you can take the bus? In 2017 we partnered with Bus Eireann to introduce a number of direct bus routes to Mahon Point meaning that visitors can get "Straight to the Point" by bus. So no need to bring your car, making it helpful to the environment and reducing our carbon emissions. Generally speaking, public transportation is more sustainable than driving personal cars. It releases a smaller amount of greenhouse gases and it contributes less to congestion and traffic.
The bus routes travelling to the centre have grown over the years and we now have the following routes setting down at Mahon Point:
• 212 • 202 • 202A
Bus route 212 was a new addition for 2021 which links us with the City Centre Train Station. So you can travel from Northside to City Centre to the door of Mahon Point. And other routes set down very close to the centre including:
• 215 • 215A • 219
We now have over 100 buses setting down daily at Mahon Point. Not only does this make the centre very accessible but it is also a more environmentally attractive prospect for visitors to the centre. Discussions are in place with the NTA to facilitate the new "Bus Connect" initiative which will bring more routes to the Centre and a 24/7 service.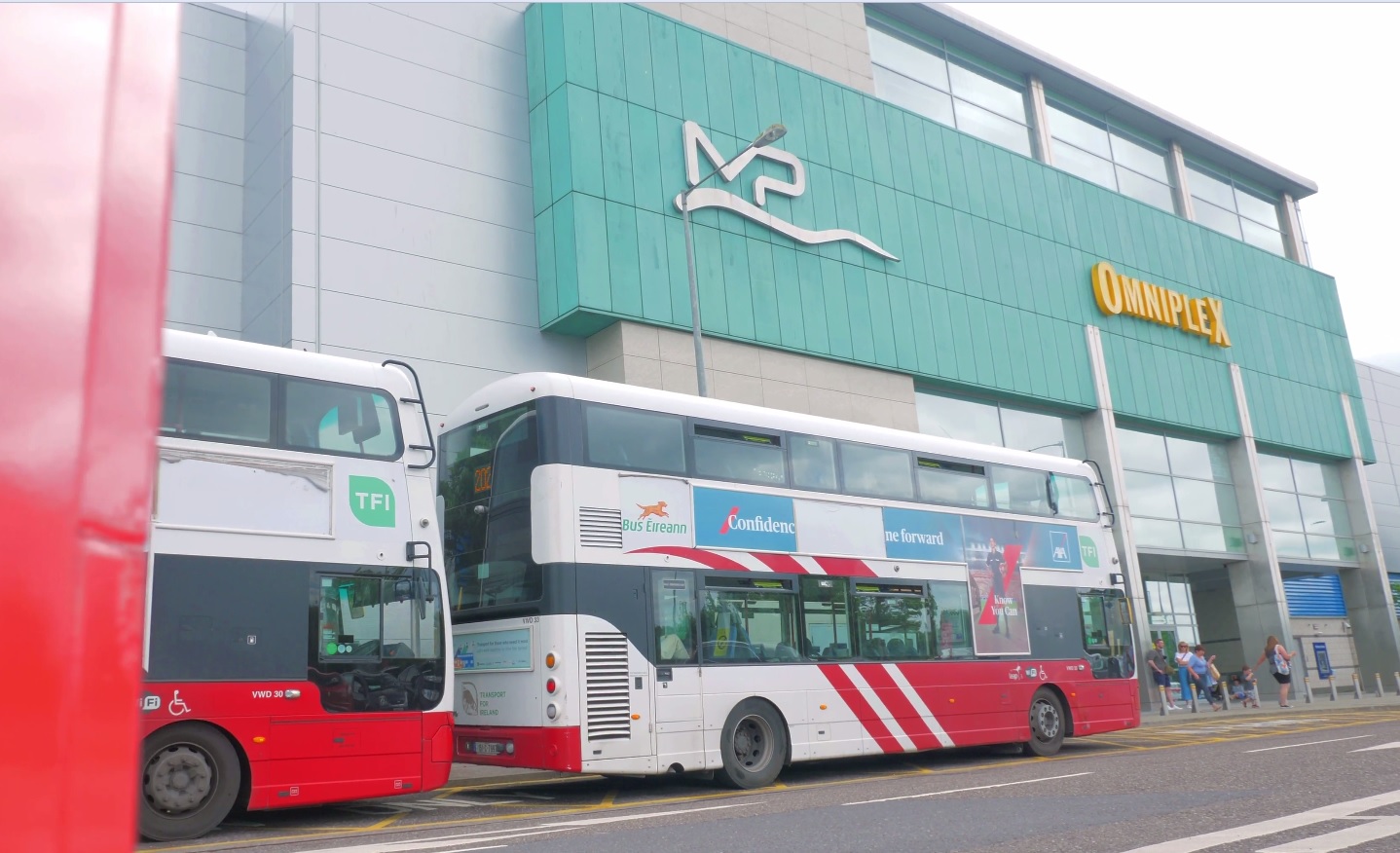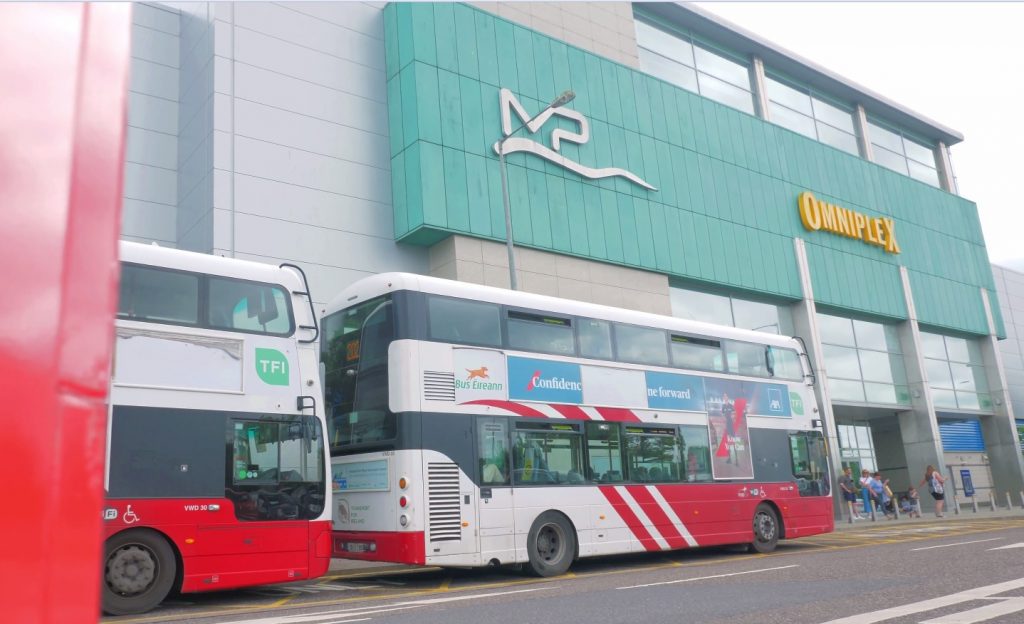 Ground Water Well
In 2013 we dug our own ground water well and it started pumping in mid-2013.
This allows us to provide our own water for nonpotable (non drinking) requirements in the public areas of the mall. As a result, this reduces the strain on the public infrastructure and public water supply and, because it is a renewable source, it contributes to our sustainability strategy. (Retail outlets still require the public supply e.g. our restaurants and coffee shops). Our well accounts for 64% of water used in the public mall area (excludes retailer's use).
The project required a substantial financial investment at the time but the long-term benefits are considerable including a reduced demand from public supply and savings in water charges. Projected payback period for the well was 6 years and 7 months but actual payback period was 4 years and 1 month (which was achieved in July 2017), an improvement of 37% on the projected planned payback period. Over a nine year period we pumped the same amount of water from our well that was equivalent to 40 Olympic sized swimming pools or 100,000 cubic metres. So not only is the well sustainable, it has also saved the Centre substantial water charges.
Furthermore, the recent refurbishment and upgrade of public toilets has resulted in substantial savings in toilet and tap water consumption. The introduction of dual flushing options has reduced consumption and the installation of sensor taps avoids wastage.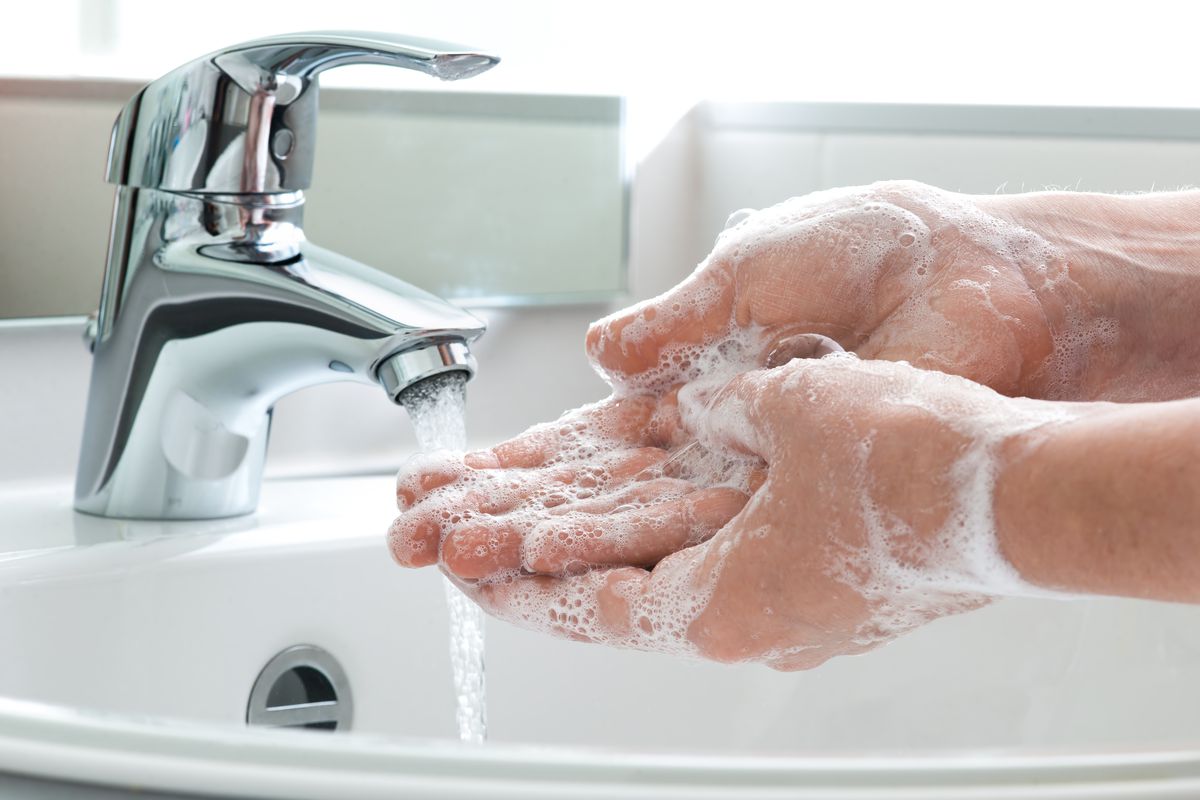 Sustainable Farmers' Market
Mahon Point Farmers' Market is the largest Farmers Market Cork has to offer, bringing together a diverse range of local farmers and artisan food producers in one large weekly market held outside the main entrance of Mahon Point Shopping Centre every Thursday morning from 10am to 2pm.
Established in 2006, Mahon Point Farmers' Market has over 50 stalls of high-quality foods available, much of it organic, lovingly grown, produced or sourced by small producers across the county. The market has won an array of prestigious awards including the Good Food Ireland "Best Farmers Market Award" and the McKennas Guide "Best in Ireland" Award.
Our vision for the Farmers Market is to be as plastic free as possible and fully sustainable. All of the market traders are committed to this and all of the food that is served at the market is done so in compostable packaging.   We are currently developing a project with CUSP (Cork Urban Soil Project) where all of our compostable market waste will be broken down in a bio digester and turned into soil that will then be distributed to gardens and growing projects around the city.
We plan to be the first zero waste market in Ireland. We believe in local food systems and the majority of our stallholders grow, rear, catch or bake their produce within an hour's drive of Mahon Point reducing food miles and providing the freshest food.
The Mahon Point Farmers Market will be one of the first in Ireland to take this 100% sustainable route.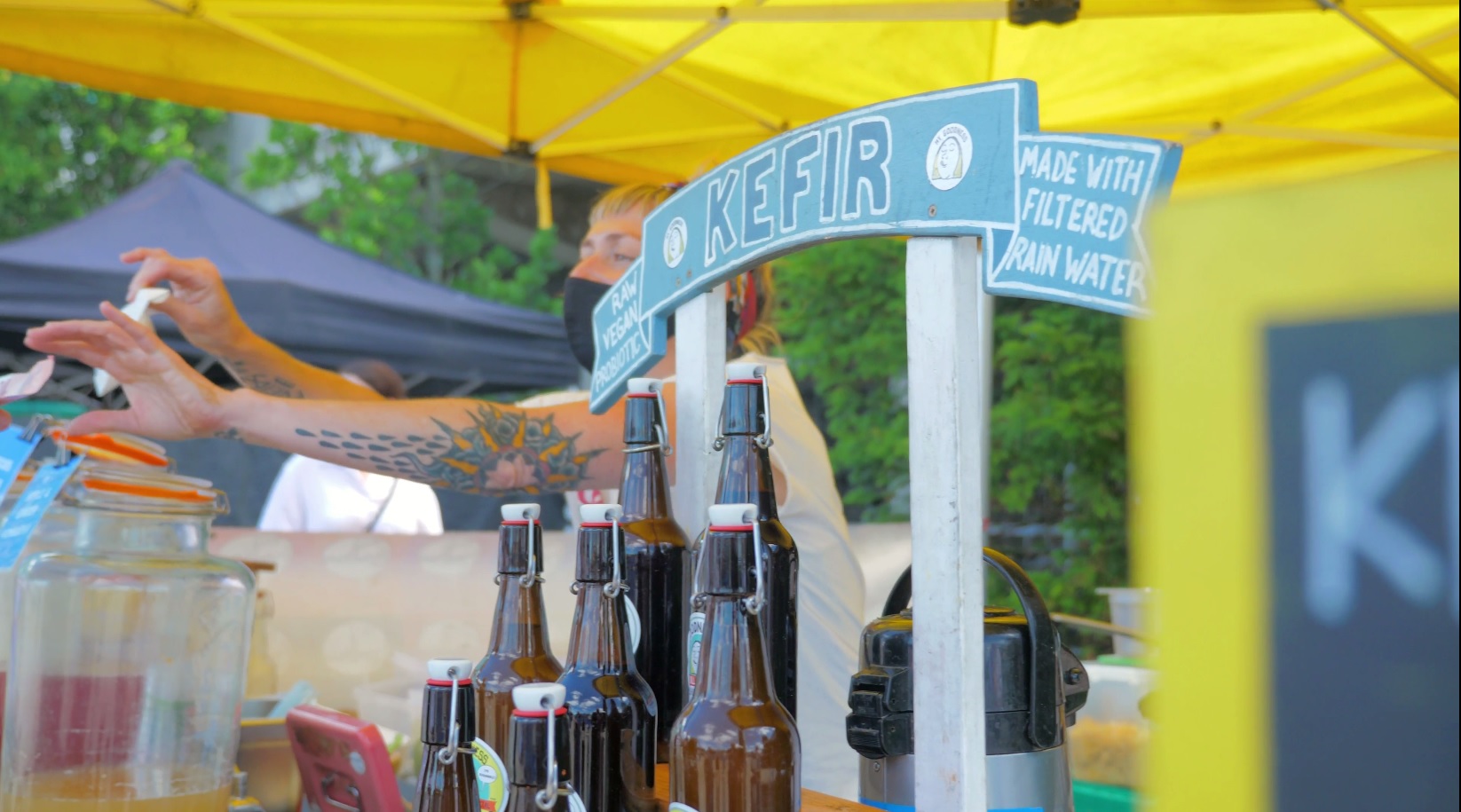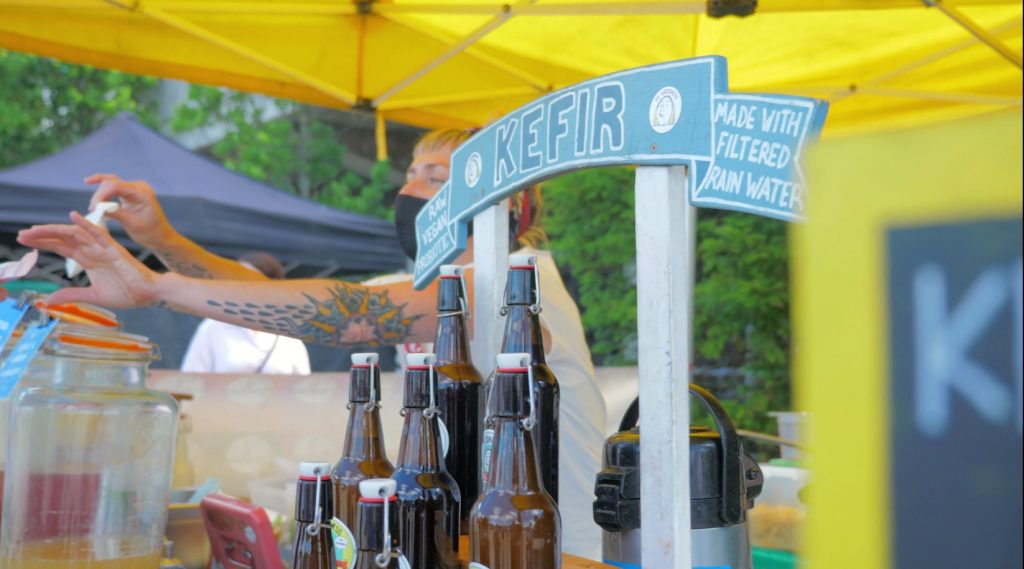 BREEAM Accreditation
In 2015 Mahon Point Shopping Centre became the first building in Ireland to be accredited BREEAM in use certification. BREEAM is the world`s longest established and most widely used method of assessing, rating and certifying the sustainability of buildings. Worldwide, 561,300 buildings are now certified with BREEAM assessment ratings, and over 2 million registered for assessment since it was first launched in 1990.
Since 2015 Mahon Point Shopping Centre has annually been awarded a "very good" rating for asset performance and an "excellent" rating for building management.
In June 2023 we were rated "excellent" by BREEAM in both the "Asset Performance" and "Building Management" categories, making us the only building in Ireland with BREEAM Excellence for Building Management.
A BREEAM assessment uses recognised measures of performance, which are set against established benchmarks, to evaluate a building's specification, design, construction and use. The measures used represent a broad range of categories and criteria from energy to ecology. They include aspects related to energy and water use, the internal environment (health and well-being), pollution, transport, materials, waste, ecology and management processes.
Our high scores are reflective of a number of effective improvements that we implement on an ongoing basis around our 30-acre site. These include the introduction of a new bespoke Building Management System (that optimises and reduces waste on utilities such as water, gas and electricity), and efficient segregation and recycling of all site waste (including food waste composting). Other approaches include the use of a ground water well supply and lighting management through an efficient internal and external lighting system.
Recycling Waste
Mahon Point is a zero waste to landfill site with 100 % of our refuse being recycled or recovered. Since we opened in 2005, where possible, we have segregated cardboard, plastic, metal, glass, timber and compost (food waste). We have partnered with Panda Group to help assist with our waste management solutions and on average we recycle up to 800 tonnes of waste per year.
In 2007 we introduced a specialised Food Composter which handles all the waste from our restaurants and produces up to 5 tonnes of compost per year.
All other contaminated waste (general waste) is processed by Panda and exported to be used as RDF (refuse derived fuel). This is used to generate electricity as opposed to burning fossil fuels.
Panda's recent investment in technology has led to a partnership with Energia which converts organic waste area into electricity at its newly commissioned Huntstown Bioenergy Plant, which will be one of the largest anaerobic digestion plants in Ireland.
And as a customer of Energia, it means our converted waste comes full circle as energy back to us!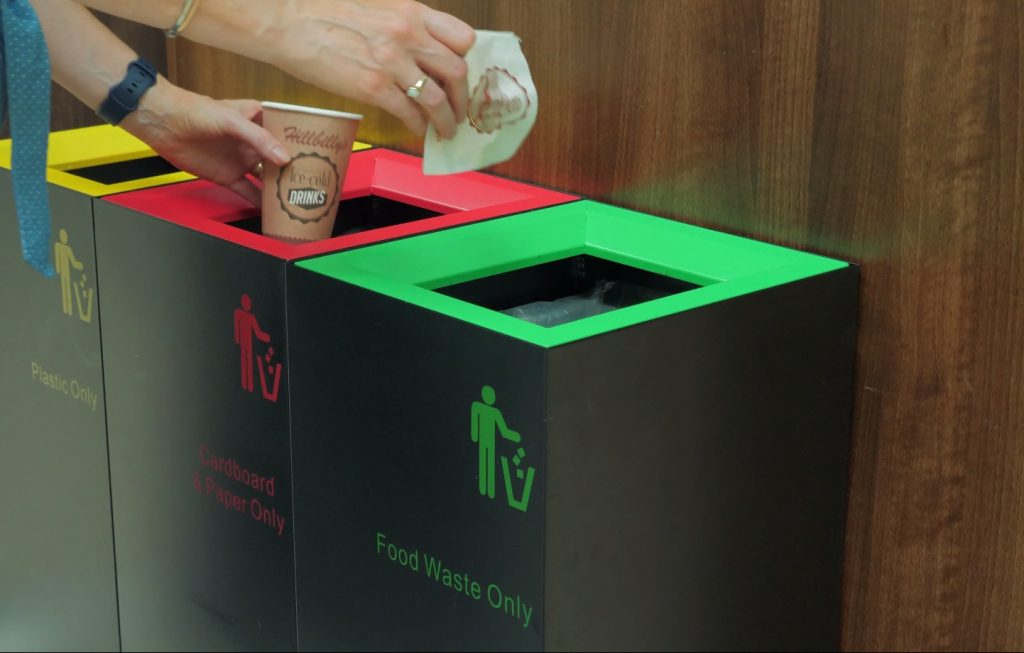 Bike Friendly
Why drive when you can cycle! At Mahon Point Shopping Centre we have offered
ample bike parking since we opened in 2005. Spaces are available in our covered car park and at the Omniplex entrance.
Cycling offers a healthy and environmentally friendly travel option. And with our close proximity to the Mahon/Blackrock cycle route, cycling is an attractive pastime in our local area. It only takes 20 minutes to cycle from the city centre to Mahon, most of which is on the picturesque Old Blackrock Railway line Greenway.
We are happy to welcome cyclists to Mahon Point Shopping Centre and have plans to develop our cyclist services in the future.
In 2022 we added 250m of cycle paths and we plan to expand our bike space capacity along with adding ancillary bike storage.
Future Plans:
A feasibility study is being conducted on our use of gas with the plan to introduce air to water heat pumps which will fully replace the existing gas burners used to heat and provide hot water for the Centre.
We also have other projects in the pipeline including a further expansion of their solar energy project, the introduction of green clauses in tenant lease contracts, the expansion of our EV offering to provide universal charging and the expansion of bus services in conjunction with the Bus Connect scheme. Our ultimate goal is to become carbon neutral.
"We do not inherit the earth from our ancestors, we borrow it from our children." – Native American Proverb