Farmers Market
Mahon Point Farmers' Market is the largest Farmers Market Cork has to offer, bringing together a diverse range of local farmers and artisan food producers in one large weekly market held outside the main entrance of Mahon Point Shopping Centre every Thursday morning from 10am to 2.00pm.
The market has won an array of prestigious awards including the Good Food Ireland "Best Farmers Market Award" and the McKennas Guide "Best in Ireland" Award 2008, 2009, 2010, 2012, 2014, 2015, 2016 and 2017.
In 2018, it won Best Farmers Market in Cork at the #96fmbestofcork awards with Cork's 96FM and The KC Show Corks 96 FM.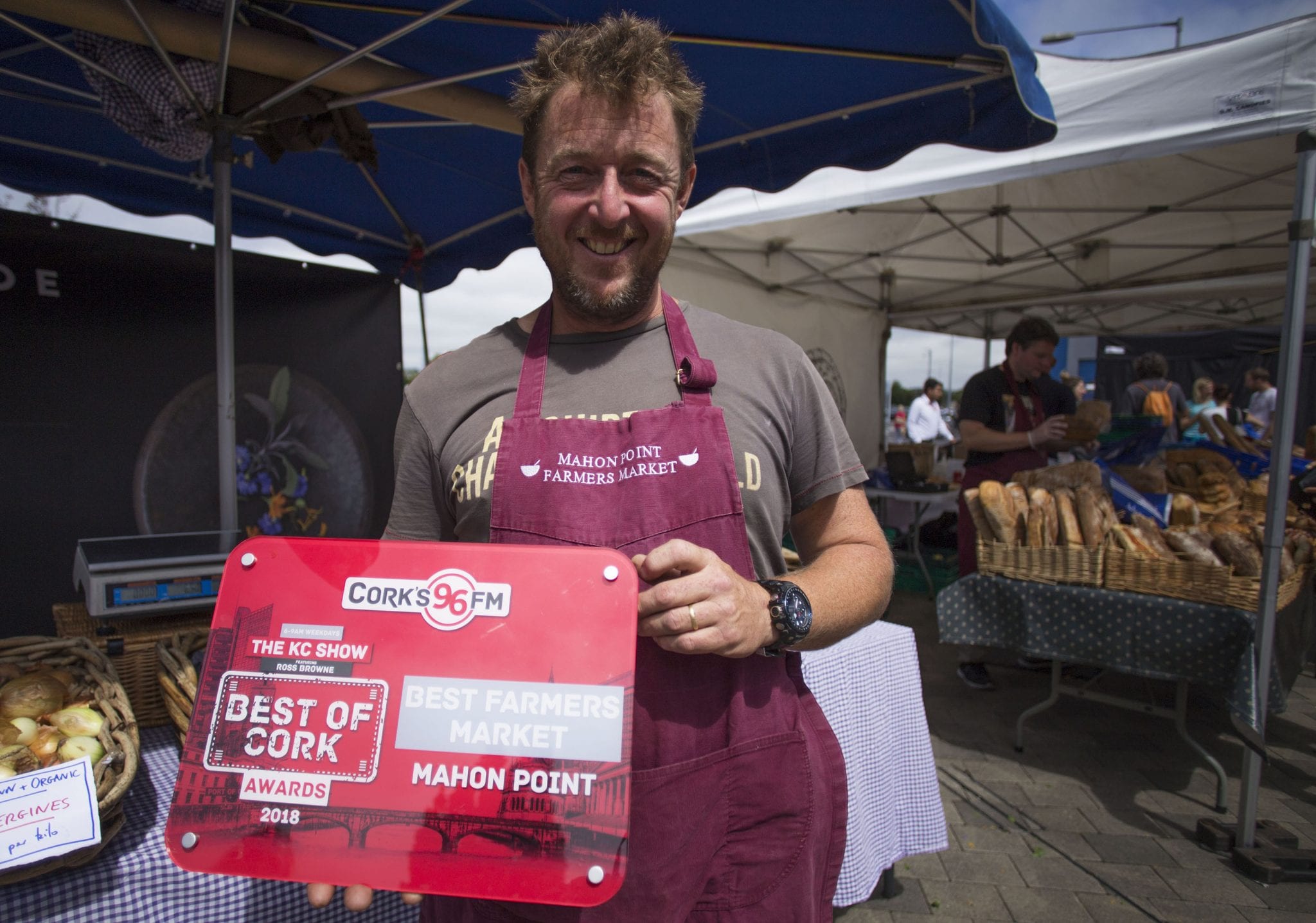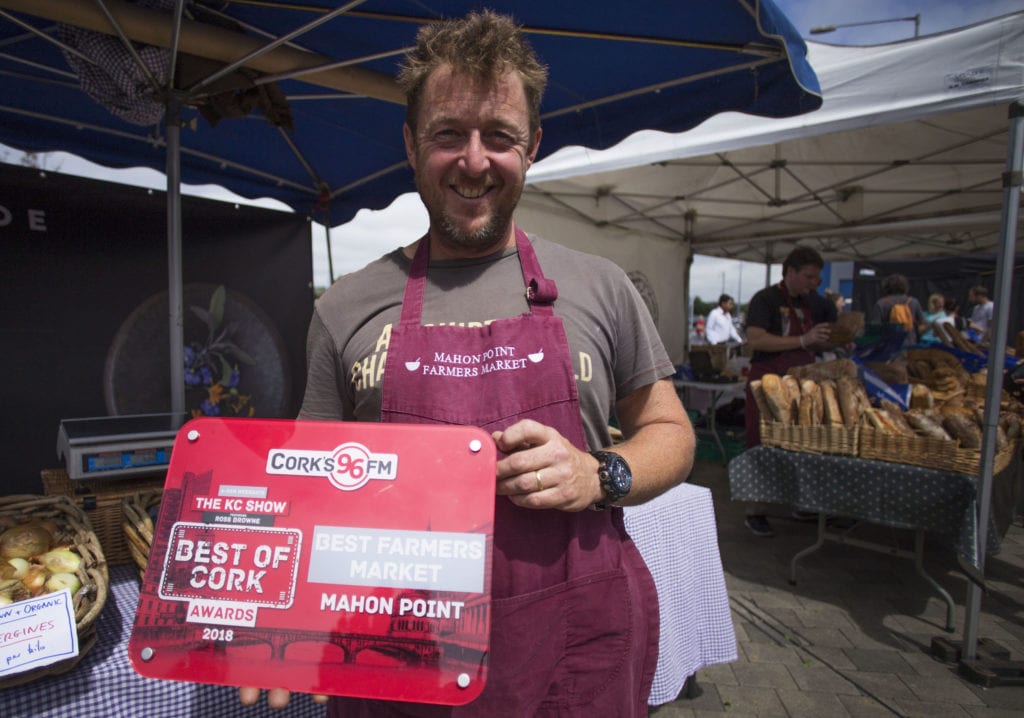 Rupert Hugh Jones from Mahon Point Farmers Market
Established in 2006, Mahon Point Farmers' Market has over 50 stalls of high-quality foods available, much of it organic, lovingly grown, produced or sourced by small producers across the county. It provides a vibrant and exciting shopping experience for the people of Cork and enables the public to meet their local food producers and celebrate the exceptionally high quality of locally produced food.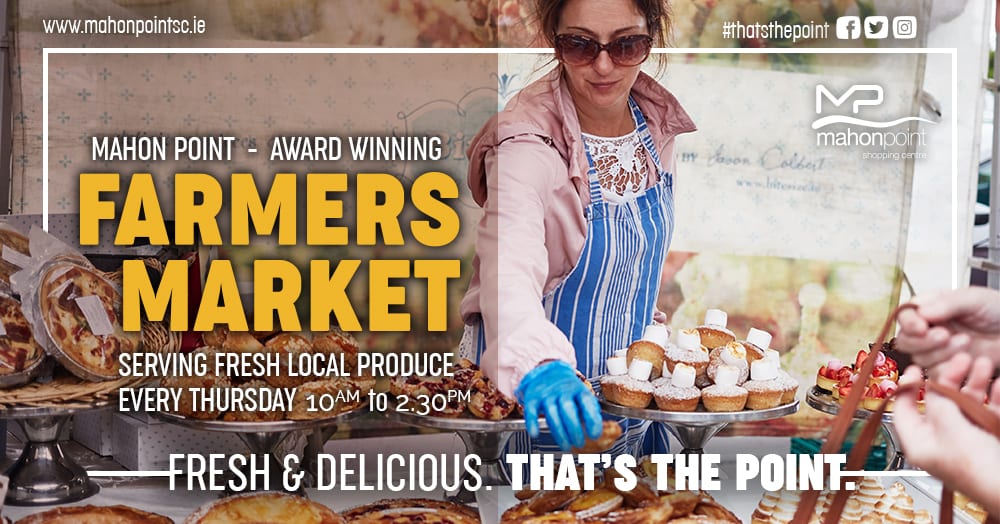 For all market inquiries please contact: Rupert Hugh-Jones at farm@rossmoreoysters.com or on 086 1685312
Stall Holders
| Stall Name | Stall Owner | Stall Type | Contact Number | Email |
| --- | --- | --- | --- | --- |
| Annies Roasts | Annie Murphy | Rotisserie Chicken | 086 3059694 | TheChocolateFairy@icloud.com |
| Arbutus Bread | Declan Ryan | Artisan baker | 086 2513919 | arbutus@iol.ie |
| Ballinrostig Homestead | Stephen Bender | Cheese | 087 2773141 | |
| Ballintubber Farm | David Barry | Vegetables | 086 8238187 | |
| Ballycotton Fresh Fish | Trevor McNamara | Fresh fish | 086 3819066 | |
| Ballycotton Poultry | Tom Clancy | Free range chicken | 086 3089431 | ballycottonfreerange@gmail.com |
| Ballycurraginny Farm | Joe Burns | Local vegetables | 087 6329334 | burnshedgecutting@hotmail.com |
| Ballyhoura Apple Farm | Maurice | Apples and juice | 087 2741863 | |
| Ballymaloe Cookery School Organic Farm | Rupert | Local vegetables | 086 1685312 | |
| Bean Brownie Company | Sarah | Baking | 087 9260926 | beanbrowniecompany@gmail.com |
| Bite Size | Jason Colbert | Baker | 086 8058665 | info@bitesize.ie |
| Cork Coffee Roasters | John Gowan | Coffee | 087 7766322 | |
| Dan Ahern Poultry | Dan Ahern | Chicken and eggs | 086 1659258 | |
| EMYE | Fizzy | Ethiopian Food | 086 3193441 | |
| Okanowa | Chris | Sushi | 087 4158352 | |
| Gidi Kebab | Gidi Gur | Kebabs | 087 2255608 | |
| Glenilen Farm | Alan Kingston | Dairy products | 028 31179 | |
| Golden Bean | Marc Kingston | Coffee | 086 8366325 | marquaha@yahoo.ie |
| Green Saffron | Arun Kapil | Curries and spices | 086 7299992 | eatwell@greensaffron.com |
| Greenfield Farm | Derek Hannon | Natural vegetables | 087 6753952 | greenfieldfarm09@gmail.com |
| Gubbeen Smokehouse | Fingal Ferguson | Pork products | 028 27824 | fingalferguson@mac.com |
| Happy Cheese Man | Mark Hosford | Farmhouse Cheese | 087 6351954 | markscheese@yahoo.ie |
| Lens Grains | Len O'Donovan | Grains | 085 1581660 | |
| Lolo Kitchen | Laurent Catinot | Steak sandwiches | 087 2605591 | clairecatinot@gmail.com |
| Mealagulla Orchard | James Scannell | Apples and Juice | 086 2674825 | jnscannell@gmail.com |
| Mountain Mushrooms | Lucy | Mushrooms | 086 8100808 | |
| My Goodness | Virginia | Vegan food | 087 9356652 | mygoodnesscork@gmail.com |
| Nutcase Food Co | Mick Meaney | Nutroasts | 087 0693994 | m.meaney@yahoo.co.uk |
| O'Conaills Chocolate | Casey O'Connaill | Chocolate and Coffee | 086 1046075 | |
| O'Driscol Fish | Sean O'Driscol | Fresh fish | 086 1728594 | |
| Old Millbank Smokehouse | Geraldine Bass | Smoked salmon | 022 23299 | bass3@indigo.ie |
| O'Leary Lamb | Martin O'Leary | Organic Hill Lamb | 087 2343391 | martinoleary101@gmail.com |
| Orchard Cottage Dairy | Joseph Desmond | Goats milk and cheese | 086 3037871 | |
| Organic republic | Willi Doherty | Organic Veg and Fruit | 087 9446794 | organicrepublic@gmail.com |
| Patisserie Regale | Jane Graham-Leigh | Baking | 023 8895155 | info@regale.ie |
| Petra's Oven | | Gluten Free Baking | 086 1989311 | petrasoven@yahoo.com |
| Poynton U | Oonagh Poynton | Baking | 086 8479190 | |
| Real Olive Company | Toby Simmons | Olives | 026 41471 | |
| Rocketman Food Co | Jack Crotty | Salads | 086 8229624 | jack@therocketman.ie |
| Rose Cottage Fruit | Claire Phelan | Local soft fruit | 087 2700121 | phelanclaire@hotmail.com |
| Sensasion Food | May Kong | Asian Food | 087 7216498 | |
| Sonnys Mechants of Broth | Rachel McCormack | Vietnamese cooking | 086 8212741 | rachelmccormack@gmail.com |
| Swantons Plants | William Swanton | Plants | 086 2577018 | |
| The Crepeman | Len O'Donovan | Crepes | 085 1581660 | info@thecrepeman.com |
| Volcano Pizza | Simon Mould | Wood-fired Pizza | 086 7930062 | simon@volcano.ie |
| Wild Atlantic Way products | Zita Dennehy | Seaweed products | 087 9828943 | wildatlanticwayproducts@gmail.com |
| Woodside Farm | Noreen Conroy | Free-range pork | 087 2767206 | macconraoi@hotmail.com |
| Youghal Honey | Robert Anthony | Honey | 087 6547034 | |
| Yum Gelato | Marcus Hodder | Gelato | 086 8841222 | marcushodder@gmail.com |
Some Endorsements
Irish Food Awards (Blas na hEireann) 2017
Ballyhoura Apples – Best Market Stall
Nutcase Food Company – Gold  Award
Gubbeen Smokehous – Gold Award – Best Hard Cheese
Irish Food Awards (Blas na hEireann) 2015
• Ballyhoura Apple Farm – Gold award for Mulled Apple juice – Maurice Gilbert
• Gubbeen Smokehouse – Gold Award – Best Soft Cheese – Fingal Fergurson
• Toonsbridge Dairy – Gold Award for buffalo mozzarella – Toby Simmons
• Joes Farm Crisps – Best in Farmers Market award – Joe Burns