Nando's Results Week Offer Returns with Free PERi-PERi and a Spicy Twist for 2020 & 2021 LC Students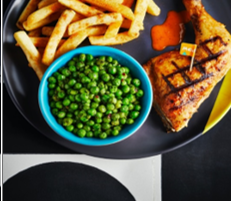 After a year hiatus, Nando's is back with its annual Results Day Promotion, providing unwavering support and a judgement-free offering in the form of free PERi-PERi for students picking up their grades – no matter the result! And this year, there's an extra twist in store for last year's students who missed out.
Whether you're adding spice to your celebration or commiserating with chicken, Nando's will be giving away a free* starter or ¼ chicken to all Leaving Cert students across Ireland picking up their grades, on Friday 3rd September.
Last year was a tough year all-round and due to Covid-closures Nando's was not able to give students their well-deserved snack. In a spicy turn-of-events this year, determined for no one to miss out (even if it's a year postponed), Nando's is opening the offer to 2020 results students.
Nando's Results Day promotion will be available in all Nando's restaurants across the Republic of Ireland on 3rd September to any 2020 or 2021 Leaving Cert student who brings in their results and ID to collect their code for the order at table app and has a minimum spend of €7.
*For full Results Day terms and conditions, please visit: nandos.ie/resultsdaydash