Exclusive to Mahon Point!
Enjoy our free style advisor service with our stylist Dee Kelly Morgan at her new luxurious pod on our upper mall!
To make an appointment  call 021 497 2800 or click here to book online.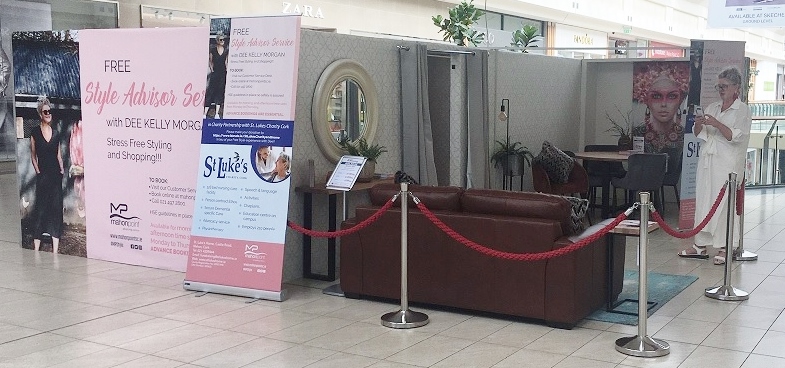 Dee likes to call it her Pod of Positivity!! And it is exclusive to Mahon Point and … offers a private fitting room!
Dee can now provide her same legendary service (with all necessary Covid 19 guidelines in place) but at her fab new location.
At her new pod, Dee can host her clients on a one to one basis in a safe environment and showcase the must-haves in fashion for the season.
Dee has a selection of her favourite clothes, footwear and accessories from across the Centre to view, it's like a mini boutique!
But if you still need to go store to store, that can also be safely arranged.
Each 1 and a half hour appointment with Dee will make shopping a breeze. Dee can also take 2 members of the same family per appointment as 2 fitting rooms are available.
The service is available for morning and afternoon time slots from Monday to Thursday but advance bookings are essential.
In advance of your appointment with Dee you can first schedule a call if required to ensure all your concerns can be met and to make the appointment more efficient.
This service is a must-have in these times to help fast track you to a capsule wardrobe with minimal fuss and exposure!  Dee will take all the necessary precautions to ensure your safety is ensured.  So whether it's a back to work wardrobe you need, new season staples,  or you're just ready to shed the leisurewear, then Dee is your woman!!
To make an appointment  call 021 497 2800 or click here to book online.
Furnished by EZ Living Interiors
Thanks to EZ Living Interiors for furnishing Dee's pod with such luxurious furniture and accessories.  As always, they have a fantastic range of product in their store in the Retail Park.  From upstairs to downstairs they have it all and some great offers too!
Charity Partner St. Luke's Nursing Home
For this service, we are delighted to charity partner with St. Luke's Nursing Home in order to help them raise awareness and assist with fundraising. St Lukes Home, located close-by to us in Blackrock, is a leading provider of residential care and support services to older people in the Cork region.
Please support them if you can in lieu of your Free Style experience with Dee Kelly Morgan!.
o learn more or to donate to St. Lukes, visit https://www.stlukeshome.ie/