Milano are hiring and are holding a Recruitment Day on Thursday September 23rd: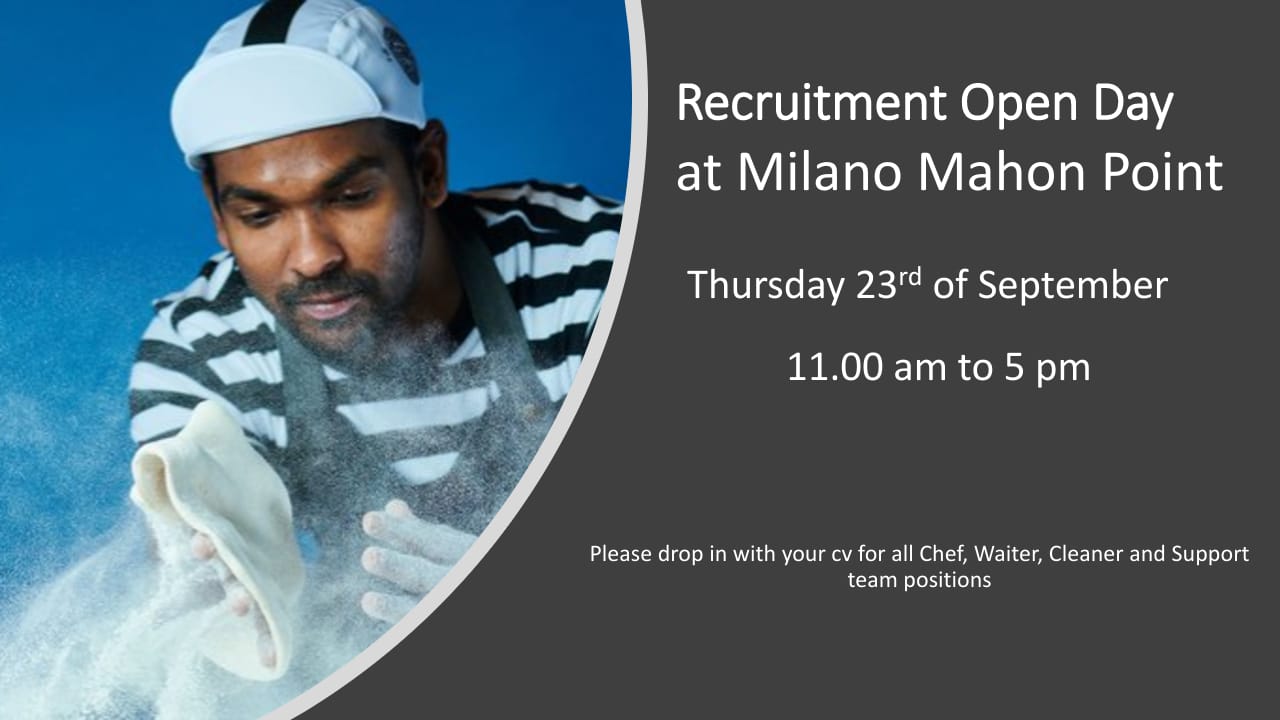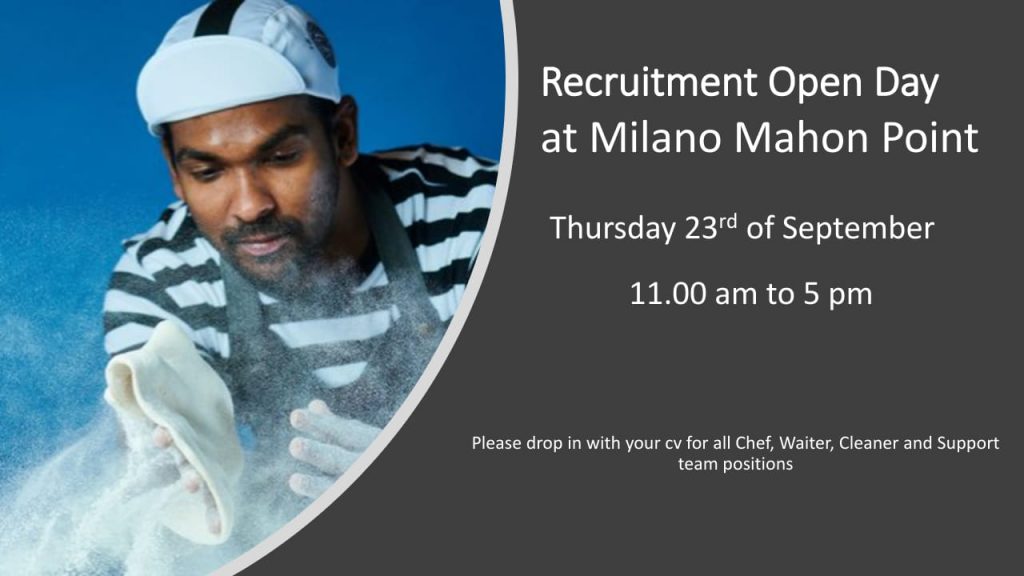 See below for more details about working for Milano.
Your career. Made by you.
Your safety and job security – we know these matter to you, possibly more than anything else at the moment.  We want to assure you that all of our pizzerias are Covid secure and we have a range of measures in place to keep both our customers and teams safe. 
These include; social distancing, daily and weekly health and wellbeing checks with our teams, regular wellbeing checks that include open honest dialogue, a digital menu and cashless payment, hand sanitiser stations, a culture of handwashing on top of normal handwashing that is needed to maintain food safety standards, and enhanced cleaning regimes and sanitisation. 
We were recently bought by new owners, who have looked after our teams during the Covid lockdowns and have committed to further investment in our pizzerias in the coming months and years.  We have exciting times ahead; come and be part of the journey.
What's in it for you
Whatever you'd like to get from your job with us, we'll support and empower you, from progression and development, to financing your studies or holiday spending money.  What you get here, is made by you.
Who we are
In return, you'll work with ambitious teams, who're highly collaborative and agile, all striving to win at every opportunity. We work in an environment that values contribution from everyone and you'll join a sociable team, who've donated over £2m for our charity partners over the past 5 years.
Benefits
We offer a starting hourly rate from €10.20 and, with plenty of ways to progress your career into senior kitchen, supervisory or management roles, there's lots of opportunity to earn more!
Free food on shift
50% discount off your whole bill when dining in our restaurants (yes, drinks included too!)
Benefits portal with discounts across online and high street shops
Paid training, ongoing development and opportunities to gain nationally accredited qualifications
29 days paid holiday (pro rata)
Pension
Life assurance
Employee support service for all our team and your families
Refer a friend scheme paying €200 for pizza chefs and €1000 for management referrals
Tronc, or credit and debit card gratuities and service charge, is a fair way to pay Tronc tips to our teams.  All Tronc tips go to you, our team, with the amount split 50:50 between our kitchen and waiting/front of house team.  All tronc payments are made at the end of each pay period, along with your normal pay.  This sits outside your contractual benefits, and is one of the best perks about working in the hospitality sector
We're proud of every one of our team members, and we value the unique story that each of us brings. Our diversity makes us stronger, and we believe that sharing and supporting what matters to us helps to break down the barriers that stop us all from truly belonging and connecting. Inclusivity and respect are at the heart of our business and are valued by our teams, customers and suppliers. PizzaExpress and Milano is a place where everyone is welcome, and everyone belongs. As such, we assess each application on the aptitude to do the job and nothing else.
To apply, click below:
https://jobs.pizzaexpress.com/search/33345
https://jobs.pizzaexpress.com/search/33663
https://jobs.pizzaexpress.com/search/33664
Posted September 16th 2021